When you live in a studio size apartment, your living room may also be your dining room and bedroom. How do you separate your bedroom from your living room for when you have guests over? You sure don't want them looking into your bedroom. It is important to use as much space as possible out of every room; putting up a wall would take up too much space and create a permanent divider, thus making your apartment/house seem a lot smaller than it already is. Here are some tips to divide a room without the need off adding a wall, maximizing the space in your already small house/apartment.
Curtains and/or decorations
One of the easiest, cheapest ways to divide a room is with the use of a curtain. Hanging up a curtain can be decorative and simple. You can hang them up on a rod, like regular window curtains, hang them up with a use of rope or wire, install a roller track on the ceiling, or simply pin them up to the ceiling. You can choose different materials, colors, or patterns. Whichever way you decide to install them, it will add a more decorative look to your house if you match it up with the rest of your house décor.
You can also use decorations such as paint, wallpaper, different floor patterns, or beaded curtains. Although this option may not block the view to other room areas, it will still give the effect of separate rooms while keeping a large, open living space.
 Storage
Storage like shelves, libraries, and cabinets make great room separators while also keeping your house organized. If you want to separate your bedroom from a living room, you can have a closet facing your room and a tv mount on the other side. You can design your own furniture and have it made specifically for the purpose you want it for, or you can buy one and use it to the best of its abilities.
Sliding Doors
Sliding doors are a great way to separate two spaces that won't always remain separated. Like when you are going to have friends over and don't want them to see your messy bed. A sliding door can be built like a regular closet door. Or you can create your own sliding door with an old door, rollers, and proper hardware. Follow this link or click on the image below  for an idea:
http://www.ehow.com/how_12152499_diy-sliding-room-divider-doors.html
 Screens
Screens are another way to divide a space. They're decorative, easy to carry and move around if needed, and you can either buy them or make them yourself. They come in many color and patterns, so you can have them match the rest of the décor in your house. Check out this link if you want to make your own screen.
https://www.onekingslane.com/live-love-home/foldingscreen/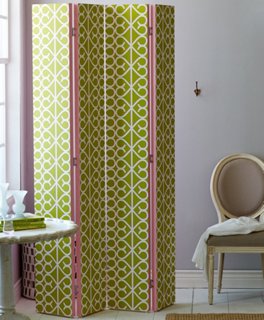 Sliding Panels
Sliding panels are the same principal as a sliding door, except they are more decorative, thinner, and easier to build yourself. They also sell panels that you can install the same way that you would a sliding door, as mentioned above. Follow this link to make your own sliding room panels.
http://www.ehow.com/how_12180297_make-room-divider-sliding-panels.html